Firelight Ryman Setters
2019: My next litter of setter pups is planned for spring/summer 2019.  Reports have been very good about Kate's winter 2017/18 puppies so I am planning to breed her again next spring. Here is one of her puppies, 5 months old pointing prairie chicken in SD with his German buddies: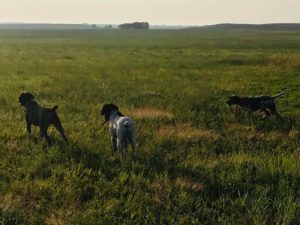 2018:    6-6-2018  We are pleased to announce that the Sally x Doc litter has arrived. She had 4 healthy puppies on June 6.  My litters are normally 8-10 so it was sad to disappoint so many people waiting for their next hunting partner but I have to admit that having just 4 is really easy and kindof fun for a change.  I will be keeping one of the females for myself which always makes a litter extra fun!
Sally is an all-business bird dog who hunts hard and fast with good stamina.  She is intense and naturally staunch on point with a natural retrieve to hand.  50 lbs, OFA Good, she is affectionate and at home is usually found laying near me with her tail thumping on the floor every time I even look at her.  Sally is a proven producer whose offspring are performing very well in the field with good conformation and consistently Good-Excellent OFA hips.  Sally is the mother of my Flint and Kate.  The sire of this litter is October Blue Doc, a male with a beautiful, smooth hunt and run and strong bird handling talent, 54 lbs, OFA Good.  Doc has impressed us with his calm, easy temperament and his pedigree introduces some fresh and excellent field ability, I have hunted with Doc offspring who impressed me and I am so looking forward to these pups that I will be keeping one for myself.
8/3/2018    The Sally x Doc puppies have gone to their homes.  Except for one little girl who is staying with me.  Now to come up with a name for her!
Flint Hills Epagneul Bretons:  Litters planned
At this time Mike is planning to hold off on his next EB breedings until winter so as not to interfere with hunting season.  Without puppies to take care of, he and the 5 EBs will be free to travel to different states for wingshooting from September through January.
    _____________________________________________________________________________________________________________________________________________________________________________________
Below are a few of the pups and youngsters from recent litters.
Available Dogs
We often keep a puppy from each litter so we can hunt and evaluate our breedings.   These pups are then sometimes available when they are a year old to approved hunting homes.  At this time we do not have any available dogs but will post here when we do.
Our most recent started dog that we placed was Jazz, our tri-color French Brittany better known to her friends as Pickle.  Pickle is a dynamic little brush busting bird finder and is ideal for thick, tangled cover.  She is now a southern Appalachian ruffed grouse dog and was pointing grouse for her new owner within a day of arriving in her new home.  Between their frequent mountain hunts she quickly became a beloved member of a busy family.
The photos below are examples of started dogs that we have sold in the past.