Flint Hills Epagneul Bretons
Epagneul Bretons (French Brittanys)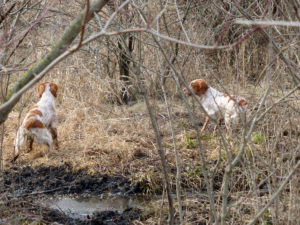 The Epagneul Breton, or French Brittany, has been bred for the foot hunter since 1907.  They are a smaller sized bird dog yet possess excellent natural hunting skills, requiring very little training other than obedience training: they will naturally point, honor and  have a strong retrieve.  EB's come in a variety of colors, we own orange roans.   This is an ideal breed for the hunter who wants a natural, high quality bird dog yet a smaller sized dog for the home.  Our EBs are very biddable and want to please. They have a high prey drive that in the field translates into hard running, hard hunting bird dogs. On the Montana prairie our EBs range as far as we let them but in ruffed grouse cover or the plum thickets of KS for quail, they hunt close and thoroughly.
Our dogs are hunted hard on a wide variety of wild bird species and we have high performance standards: to us wild birds are the best way to determine which dogs should be bred to continue the high level of natural ability.  However, at this time we have also chosen to occasionally run in wild bird trials sponsored by Epagneul Breton clubs.  The Gun stakes of these trials are very competitive but require the same level of bird handling and competency that we require in hunting so we feel they are a good way to demonstrate the natural ability of our dogs versus training.  Not to mention they are a fun way to be in the field with the dogs off-season!
Scroll Down to see our Epagneul Bretons. Click on the tabs and click the thumbnail photos to enlarge them.
Jack
is everything we look for and desire in our EBs.  He is a combination of intelligence, strength and ability.  In the field he seems to read our mind and will swing out on a 400 yard cast to check cover that looks interesting yet is close and thorough when working singles in thick quail cover.  He is naturally staunch, backs immediately on sight and retrieves softly.  At home his obedient, calm demeanor makes him the leader of our pack yet he gently accepts the adoration of the puppies.  Jack is the most devoted dog I have ever known, he always has his eye on Mike and just wants to please him.  So many times I have watched Jack swing back from his hunting to just quietly sit by as Mike climbs over a fence or adjusts his gear.  Jack completed his GUN title by winning the wild bird Gun stake at the Midwest Epagneul Breton Gun Dog Club in March, 2017.  
Jack is OFA Excellent.
DW
has sadly passed but was a full brother to Jack. DW was a quail specialist with his brush busting style, excellent nose and stylish points.   Dee would make long casts in open cover but his forte was using his nose to thoroughly work thick cover.  He exceled in retrieving and was our go-to dog for difficult recoveries as well as Mike's retriever for jump shooting waterfowl.  DW was a joyful, playful dog and quite the character around the house, he is missed so much that we choose to keep his profile up as we keep him in our hearts.
Lass is a mahogany orange and white beauty.  She is 33 lbs with classic Fr Brit type and style.  Lass is quick to learn and when running checks in well and keeps herself in a nice range.  She is fast with a lot of drive and intensity.  Her pedigree introduces a new dimension to our EBs since her mother was imported from a top EB kennel in Ireland.  OFA prelim Good.
Nate is a homebred son of Jack x Lass, whelped May 1, 2017.  With these parents Nate has a blend of his parents incredible hunting resume in addition to a pedigree blending some of the top European lines of EB's.  Nate is fast and athletic with tons of drive and stamina.  He is one to watch this fall on birds!  Nate is OFA prelim Excellent.
Nikki is from the first litter of our Jack x Lass breedings, born May, 2017.  Nikki is powerfully built like her sire, Jack, and has a lot of drive and good stamina.  She is intense on her birds and is learning quickly from her wild bird exposures and is a lot of fun to hunt.  Obedient and biddable, she has a particularly sweet temperament and is affectionate.  OFA prelim Good.